Event Parking Update
Hey folks, we have a NEW parking option that will make getting to and from Saturday's grounds even easier. We have arranged for parking at the Baileys Harbor Recreation Park at 2623 Summit Road.
REMEMBER: Parking will NOT be available at Maxwelton Braes. Attendees MUST arrive by shuttle.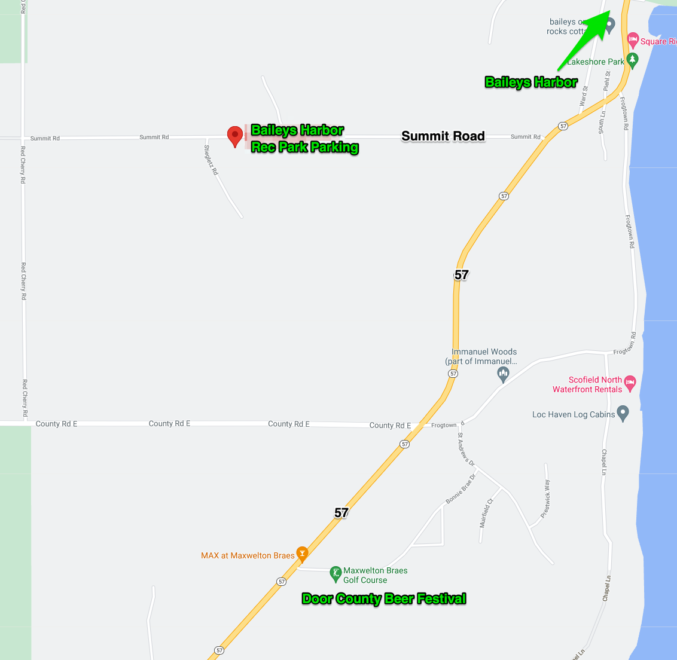 The Recreation Park is just a short 3-minute bus ride to the festival grounds at Maxwelton Braes and will allow you to avoid driving into downtown Baileys Harbor to find a place to park.
Our FREE shuttles will run continuously from the Rec Park throughout the morning and early afternoon, and again as the festival winds down.
We recommend you park by the following times to make the most of your beer festival experience:
VIP Event
Those attending the VIP event at 11 am should plan to park at the Rec Park by 10:30 am to ensure you arrive in time for the event start at 11 am.
General Admission
If you want to ensure you arrive at the festival grounds when gates open, we recommend parking by 11:30 am.
SHUTTLES
Our FREE shuttles will stop at the following locations:
Baileys Grove Campground,
Baileys Woods Campground,
Baileys Harbor Yacht Club,
Ridges Resort and at
Brann Field in the center of town (the previous location of the beer festival next to Door County Brewing Co.). 
Baileys Harbor Recreation Park (2623 Summit Road)
IDS REQUIRED!
Remember that ALL attendees should arrive ready to show your ID. Everyone (even if you look 200 years old) will be asked for ID.