The Door County Beer Festival is back and SOLD OUT!
IMPORTANT PARKING INFO FOR ATTENDEES:
Hey folks, we have a NEW parking option that will make getting to and from Saturday's grounds even easier. We have arranged for parking at the Baileys Harbor Recreation Park at 2623 Summit Road. 
REMEMBER: Parking will NOT be available at Maxwelton Braes. Attendees MUST arrive by shuttle. 
The Recreation Park is just a short 3-minute bus ride to the festival grounds at Maxwelton Braes and will allow you to avoid driving into downtown Baileys Harbor to find a place to park.
Our FREE shuttles will run continuously from the Rec Park throughout the morning and early afternoon, and again as the festival winds down.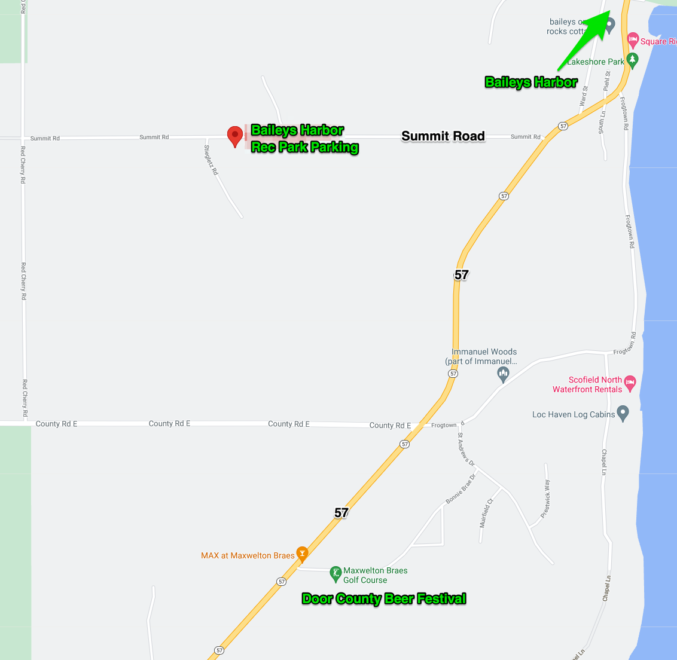 We recommend you park by the following times to make the most of your beer festival experience:
VIP Event
Those attending the VIP event at 11 am should plan to park at the Rec Park by 10:30 am to ensure you arrive in time for the event start at 11 am. 
General Admission
If you want to ensure you arrive at the festival grounds when gates open, we recommend parking by 11:30 am. 
SHUTTLES
Our FREE shuttles will stop at the following locations, with initial pickups for VIP attendees beginning between 10:30 and 10:45 am. Subsequent pickups approximately every 30 minutes:
Baileys Grove Campground,
Baileys Woods Campground,
Baileys Harbor Yacht Club,
Ridges Resort and at
Brann Field in the center of town (the previous location of the beer festival next to Door County Brewing Co.). 
Baileys Harbor Recreation Park (2623 Summit Road)
Parking will not be available AT Maxwelton Braes. Festival goers must ride a FREE shuttle or get dropped off at the grounds. Please plan to arrive early to catch a bus.
Buses will run continuously from Brann Field in downtown Baileys Harbor (Just north of Door County Brewing Co.) and from the Baileys Harbor Rec Park. Shuttles also are scheduled for those staying at one of our sponsor lodging establishments but are only available for those staying at the facility.
The first shuttle will leave Brann Field at 10:40 am and run continuously until 1 pm. At 1 pm the shuttles will run at 20 minute intervals. 
The gate at the Beer Fest grounds opens at 11 am for VIP attendees and 12 pm for General Admission attendees. VIP attendees should plan on arriving at Brann Field at 10:30 am to catch the first shuttles. 
For timing purposes, it takes approximately 8 minutes to walk from Anclam Beach on the south end of town to Brann Field, the location of the shuttle stop.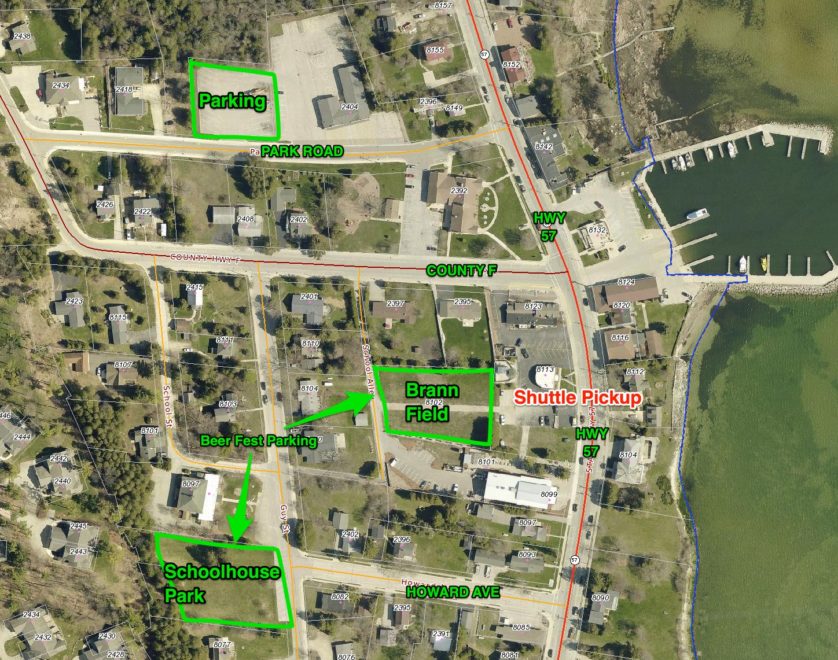 2020 Ticket Holders, Deferred to 2021
If you purchased a Door County Beer Festival ticket for the 2020 event, and chose to defer it to the 2021 event, your ticket is still valid. Simply print your ticket from your email, or log into your GeoTix account to have your ticket resent via email. If you don't remember your sign in, just request a password reset. 
The date on the ticket will still say 2020, however, the important piece, the QR code, is still good for the 2021 event. 
If you have questions, please email info@peninsulapacers.com.