The Door County Beer Festival is about good beer, good food, good music and good fun
Join us Saturday June 17, 2017 in Bailey's Harbor on the shores of Lake Michigan to sample more than 150 craft beers from around the world, including the finest craft beers Wisconsin has to offer.
The Door County Beer Festival is about more than tasting, however.  Enjoy the best locally sourced food Door County has to offer from local restaurants and farmers. Listen to music all afternoon.
If you can't have fun at the Door County Beer Festival, well, you just can't have fun!
Your Door County Beer Festival Hosts
Dave Eliot, Co-producer
Dave Eliot founded the Peninsula Pulse newspaper 15 years ago and has been an integral part of the Door County community ever since. The publisher of Door County Living Magazine and co-founder of theDoor County Half Marathon, Eliot is constantly searching for new ways to enhance life in Door County for residents and visitors alike.
On the morning of the Beer Festival he'll be helping take care of the more than 750 bicyclists expected in town for the Peninsula Century Spring Classic.
Brian Fitzgerald, Co-producer
Brian Fitzgerald has been organizing events since acting as the director of the first Door County Half Marathon in 2008. Co-owner of the Peninsula Pacers, Fitzgerald organizes and directs the Peninsula Century Spring Classic, the Door County Half Marathon, and the Peninsula Century Fall Challenge. He also works with the Door County Triathlon and the MS Walk. Oh, and he's an artist and owner of Ephraim Clayworks as well.
Myles Dannhausen, Co-producer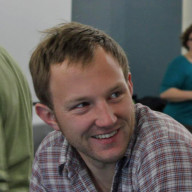 Myles Dannhausen is a freelance writer and content strategist in Chicago. This Door County native stays connected to his peninsula roots, however, through his work with the Peninsula Pacers.
Dannhausen is the course director of the Door County Half Marathon and publicity director for Peninsula Pacers events. He earned his beer drinking stripes the hard way – by buying a bar (Husby's) with his brother and a couple friends when he was 20. Today he has a weakness for IPAs, dive bars, and the conversations he finds there.
Contact Us
Looking for more information about the Door County Beer Festival? We'd love to hear from you. You can get the latest updates on the festival and other Door County events by following us on Facebook or Twitter @doorcountybeer.
You can contact us directly by emailing info@peninsulapacers.com.