The Door County Homebrew Championship is back for 2016 as part of the Door County Beer Festival.
Homebrewers can enter beers in one of 12 categories to be judged by a panel of beer aficionados and experts. Each entry will be judged by at least one BJCP judge or industry professional. The Door County Homebrew Championship is an AHA / BJCP sanctioned competition open to any amateur home brewer age 21 or older.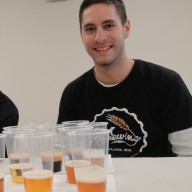 "The focus of this competition is to provide good feedback to all entrants and reward talented brewers making great beer," said organizer Justin Minikel, a resident of Oak Creek and certified BJCP Beer Judge who got his start judging at the 2013 Door County Homebrew Championship. "This is also a good opportunity for non-BJCP judges and those individuals interested in judging to get involved."
Judging will be held in Baileys Harbor May 21, 2016, with winners announced and recognized at the June 18, 2016 Door County Beer Festival in Baileys Harbor and in the Peninsula Pulse's festival insert.
Registration is open now and the entry deadline is May 13. Homebrewers can register at doorcountyhomebrewers.com. Entry fee is $7 per entry.
To view complete rules and entry requirements, as well as drop-off locations, please visit doorcountyhomebrewers.com. Those interested in judging should register on the competition website.  For additional questions or concerns, contact Justin Minikel at jminikel@uwmalumni.com.
Door County Homebrew Championship
Entry Window:  March 5 – May 13
Judging:  May 21
Winners Announced at the June 18, 2016 Door County Beer Festival
2014 Medalists