Where:  Benton Harbor, Michigan
190, 5th Street
Distance from Baileys Harbor: 375 miles (6.5 hours)
Nearby:  Greenbush, Tapistry, Round Barn and a dozen breweries in Grand Rapids
Before I visited The Livery, I had only one impression of Benton Harbor, MI, and it wasn't flattering. About 15 years ago I read Alex Kotlowiz's harrowing book, The Other Side of the River, about the racial  and economic divide presented by the St. Joseph river, with more prosperous, white St. Joseph's to the south, and impoverished, largely black Benton Harbor to the north.
It didn't paint a pretty picture of the area.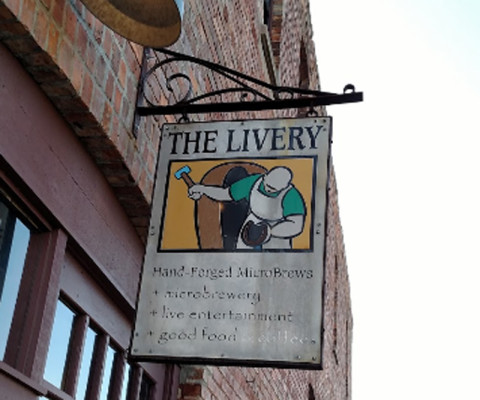 The Livery, like so many new breweries, is a step toward bringing life back to a dilapidated, formerly industrial section of Benton Harbor. When you visit The Livery, you'll get a tour of a city left behind before you come to an old red brick horse stable once known as The Palace Livery. The building dates back more than a century, and was turned into The Livery Brewery and restaurant in 2005.
Inside they've preserved the old horse elevator smack dab in the center of the room, an authentic nod to the building's history.
I visited with my friend and beer aficionado Matt, and fortunately for this IPA fan, it was IPA day. They had about a dozen on tap, and we sampled several – some meh, and a couple I'd return for, as well as a pizza that was better than expected. I devoured the pretzel bites with cheese and mustard that was phenomenal.
I wouldn't travel out of my way to visit, but if you're in the Benton Harbor area, it's definitely worth a stop for the history, solid beer, and a cool building.
Bonus points for great, friendly service and customers who let Matt's boys run wild in the beer garden and bar with no complaints. Plus, they're willing to fill growlers from other breweries, which I love in a brewery. How many 64 ounce jugs does a guy really need? (I ask this as a guy who owns nine. Yes, nine!)